The Bang,Bang! was the first party I ever organized. Together with my friend Paul Jax, we hold the party at the Waldsee in Freiburg at the 10. July 2010.
The choice of Waldsee was because our connection to this location. Lot of good parties and memories in the past.
For the sound we invited munich finest Sascha Sibler (stock5.tv, Harry Klein), Frank Bale and Paul Jax himself.
After midnight it was time for a videopremiere of a new Ski/Snowboard movie filmed over the past 3 years. Riding by friends and locals around the black forest
and some new faces filmed all over europe. It was a really good possibility to invite and see all the people again I was filming and hanging around the last years.
It wasn´t the biggest party but more like a cometogether of all the friends. The music let the people having a good time and I hope everybody had a blast!!
Thanks to the people who support Paul and me before and during the party! you are the best!!!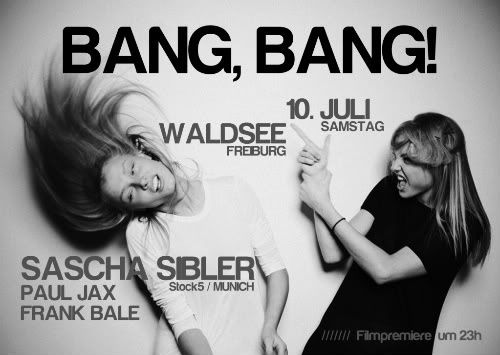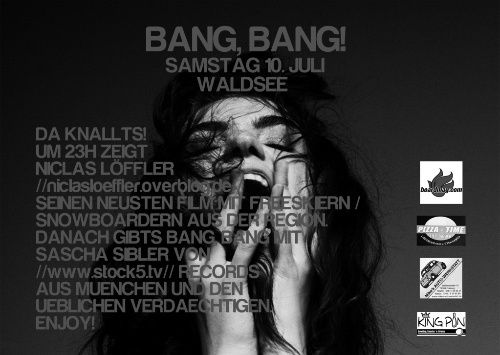 A week before the party Paul and me decided to make some viral spots for the party. So next day we invited some friends to do it. It was the first time doing something like this.
We had the idea in our minds but in the end we started and see what works the best. For light we just use the standlight of two flashes.
So in the end we were filming it in about one and a half hour and Paul edited it before the night started. I guess for just some hours of work and a lot of fun during the filming the result is quite good.

So here you can see what we did.
Big thank for the actors, great job!!